Quality Management System
We truly believe that a strong QMS is essential to help us continuously improve reliability of our processes, efficiencies and knowledge management, and also in the ethical conduct of our business. We consider continuous improvement a competitive advantage, and ethics, a minimum basic human trait.
State of the Art Infrastructure
World class hi-tech testing laboratory accredited by National Accreditation Board.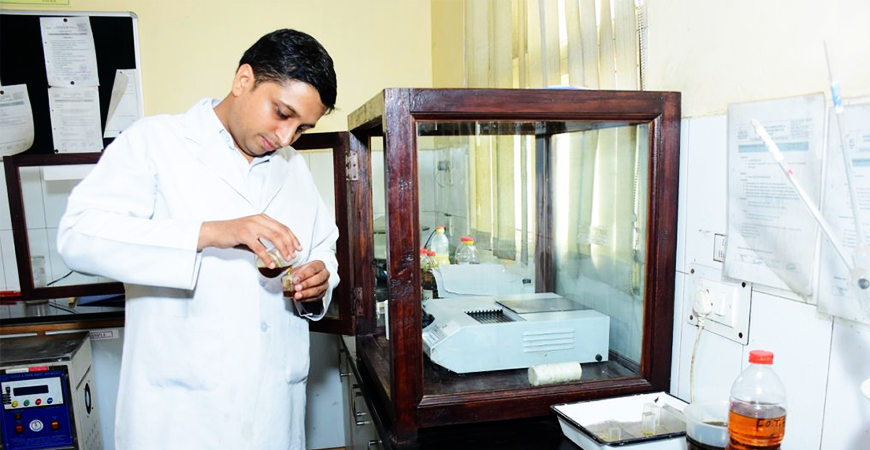 Most accurate and reliable assessment
Tailor-made solutions to cater all your testing requirements.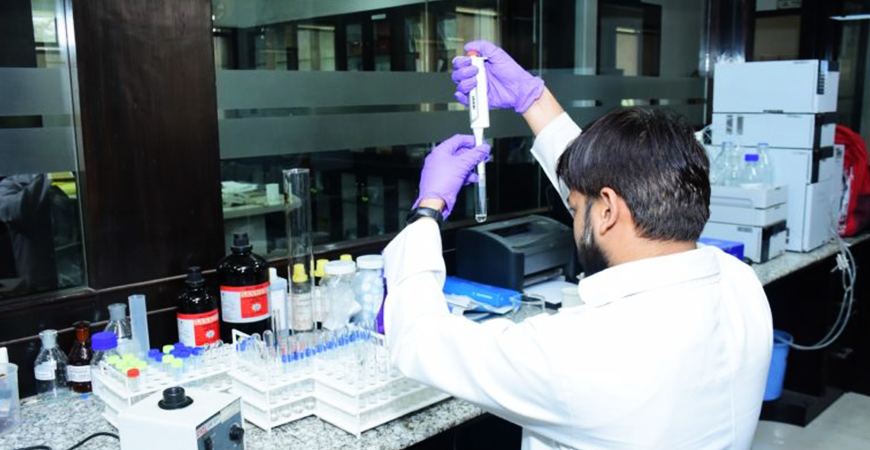 Process Improvement
Technology and process improvement related knowledge for the benefit of industry, environment and public at large.
Spread across 800 sqm of space, RLRC operates with state-of-the-art, modern laboratory instruments that produce precise and accurate results.
Agilent 7800 ICPMS
The Agilent 7800 ICP-MS combines proven, robust hardware, auto-optimization tools, and Pre-set Methods to simplify routine analysis.
With high matrix tolerance, wide dynamic range, and effective control of polyatomic interferences, the hardware takes the uncertainty out of analyzing complex or variable sample matrices.
ICP-MS Octopole Reaction System (ORS) brings collision/reaction cell (CRC) technology to routine environmental analysis of trace metals in drinking waters.
The result is easier set-up, lower detection limits, faster analysis, and improved interference removal, especially for the difficult plasma based interferences affecting iron and selenium.
Agilent LC-MS/MS
LC/MS/MS triple quadrupole provides best-in-class sensitivity, precision, and scan speed, so you can dilute or use less sample and still have complete confidence in the accuracy of your results. The system's proven robustness and reliability mean less maintenance and more uninterrupted laboratory productivity.
The Agilent LC- MS/MS system delivers robust performance for commercial, regulatory, life sciences, and research applications.
LC-MS/MS system employs two technological advantages: Agilent Jet Stream ion source and curved geometry collision cell.
These innovations enable you to reliably detect target compounds at low levels in diverse matrices, while achieving wide linear dynamic range.
Agilent GC-MS/MS
Agilent's Pesticides and Environmental Pollutants GC/MS/MS Analyzer 4.0 with the Mass Hunter Pesticide & Pollutant MRM Database provides the lowest possible detection and quantitation limits for pesticides residues in complex matrices.
Dynamic MRM provides enhanced analytical efficiency by focusing on MRMs within its own RT window.
Capillary Flow Technology (CFT) backflush optimizes cycle time, enhances robustness, and provides superior selectivity and sensitivity for routine operation.
Concern over pesticides contamination increases the demand for trace level analysis of residual pollutants in food, beverage and environmental samples.
Extracts from these matrices contain target residues plus a mixture of organic compounds co-extracted during sample preparation that increase the difficulty to accurately quantitate and confirm the presence of target compounds.
GC/MS
The ShimadzuGCMS-QP2010SE is our advanced standard gas chromatograph mass spectrometer. Descended from the GCMS-QP2010S, it combines the benefits of economy, simple operation and enhanced performance. The enhanced maximum column flow enables a variety of columns to be selected. Productivity and sample throughput can be dramatically increased.
Ecology mode saves power and carrier gas consumption allowing for a lower cost of ownership and less environmental stress.
HPLC
The Shimadzu HPLC LC20 AD is equipped with a Spectrophotometric detector (SPD). The HPLC is an analytical instrument in which a liquid mobile phase transports a sample through a column containing a stationary phase. The interaction of the sample with the stationary phase selectively retains individual chemical species and permits the separation of thesample components.
HPLC can be used for separation & quantification of non-volatile organic compounds: flavonoids, poliphenolic acids, catechin, coumarin, sterols etc.
Taking sensitivity to the limit, the SPD-20A/20AV has a noise level of 0.5×10-5 AU max., making it the world's most sensitive UV-Vis detector (ASTM Standards).
Rancimat
The 892 Professional Rancimat is an analysis system for the simple and safe determination of the oxidation stability of natural fats and oils with the well-established Rancimat method.
With eight measuring positions in two heating blocks. The built-in display shows the status of the instrument and each individual measuring position. Start buttons for every measuring position enable the measurement start on the instrument.
Cleaning effort can be reduced to a minimum through the use of practical disposable reaction vessels and dishwasher-safe accessories.
This saves time and costs and significantly improves accuracy and reproducibility.
870 KF Titrino plus
The inexpensive 870 KF Titrino plus is a KF titrator for volumetric water content determination. With it, water contents from a few ppm to 100% can be determined reliably and precisely in solid, liquid and gaseous samples.
With its user interface, which is tailored to routine users, the 870 KF Titrino plus is so simple to operate that only brief orientation periods are required. It is the ideal titrator for routine determinations, also because of its robustness.
Refractometer
Measure the refractive index and concentration of liquids, gels and solids using laboratory refractometers from Anton Paar – the universally applicable and user-friendly Abbemat series.
Simply take your pick depending on the accuracy, temperature range and level of automation you require.
Flash point
The automatic Pensky Martens closed-cup tester measures the flash point at the lowest temperature at which the application of an ignition source causes the vapors of a sample to ignite.
PMA 5 is suitable for flammability applications on both biodiesel and biodiesel-blended fuels along with distillate fuels like diesel, heating oil and kerosene.
It is also commonly used for other potentially flammable liquids.
Spectrophotometer
Designed in accordance with the governing Japanese and European Pharmacopoeia, the new UV-1800 UV-VIS spectrophotometer achieves a resolution of 1 nm, the highest in its class, in a compact design.
Capable of analyzing DNA and proteins using the following quantitation methods.
Nucleic Acid Quantitation- Quantitates DNA or protein using the absorbance at 260/230 nm or 260/280 nm, Protein Quantitation, Lowry method, UV absorption method (direct measurement at 280 nm)
Separately quantitates up to eight components mixed in a single sample. Pure components or mixtures of components can be used as standard samples
Gas Chromatography
NUCON 5700 GAS CHROMATOGRAPH is simple, rugged, most reliable instrument being used in Industry and Research for routine Q.C. and Research application.
Standard outfit is with Dual Injector with option of adding one additional Injector. It can house three Detectors simultaneously.
With Dual Channel Data Station, two Detectors can be operated simultaneously. Single Ramp Temperature Programming with Initial Hold Time upto 99 min. and programming rate from 0.1 Deg.C. to 30 Deg.C. With Glass Lined Injector, Quartz Jet FID and Glass Column, it becomes all Glass System which makes it specially suitable for Labile compounds like Alkaloids, Steriloid, VFA, etc.
Bomb caloriemeter
The instrument is designed and made as per Applicable IS standards. The heat capacity of the instrument is 500 cal/gm~10000cal/gm.
It is suitable to determine heat value of petroleum products (Gasoline, jet fuels, diesel oil and fuel oils), coal, paraffin, food and other combustible Substance.
BOD Incubator
REMI Cooling Incubators are designed for applications in pharmaceutical, microbiology, biotechnology, chemical & research labs. These chambers are used for BOD test culture of bacteria, microorganism, tissue culture, incubation, immunological work & storage of vaccines etc.
These chambers meet all critical requirements.
Laminar Air Flow
A laminar flow cabinet is a carefully enclosed bench designed to prevent contamination of semiconductor wafers, biological samples, or any particle sensitive materials. Air is drawn through a HEPA filter and blown in a very smooth, laminar flow towards the user.
The cabinet is usually made of stainless steel with no gaps or joints where spores might collect.
Such hoods exist in both horizontal and vertical configurations, and there are many different types of cabinets with a variety of airflow patterns and acceptable uses.
Portable Thickness Gage
The Magna-Mike® 8600 is a portable thickness gage that uses a simple magnetic method to make reliable and repeatable measurements on nonferrous materials.
Measurements are made when its magnetic probe is held or scanned on one side of the test material and a small target ball (or disk or wire) is placed on the opposite side or dropped inside a container.
The probe's Hall Effect sensor measures the distance between the probe tip and target ball.
POLARISCOPE
Defects caused during molding process can be easily detected using this Operation.
A preform is held parallel to viewing field to study a colour pattern known as iso chromatic fringe.
This indicates magnitude of the stresses introduced during moulding process and when perform is held 45 deg to viewing field a coloured pattern known as isoclinic is seen, this indicates direction of stresses.
Top Load Tester
Top Load Tester is used for measuring vertical strength of bottle.
Good strength avoids damage of bottles during, Stacking Transportation Storage Packing.